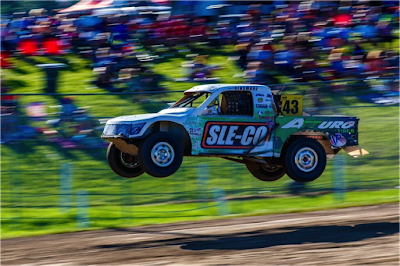 After battling it out in Chicagoland the Sle-Co, Atturo Tires Pro Light team returned to headquarters in Ontario to re-prep the truck and repair minor fuel problems that had begun at the end of round 4 in Chicago. When Travis hit the dirt for practice on Friday, it was clear the team had worked hard to set the truck up right for the high speeds of Crandon Raceway, Dinsmore was only 0.02 seconds off the fastest lap. The #43 truck was consistent and during qualifying the following day Dinsmore earned the team a 4th starting position for Round 5.
Round 5 commenced with Travis Dinsmore rounding turn one in the 4th position. As the race progressed the #43 battled it's way towards the front of the pack. Kyle Hart and Travis Dinsmore gave the spectators a great show battling it out for the number one position and by the mandatory caution Dinsmore was in 2nd place. When the flag dropped for the restart Kyle was in the lead with Travis hot on him. The two drove away from the pack with Travis diving in hard a couple times to try and take the front spot but could not safely make the pass. When the checkers flew it was Travis in second.At the end of Round 5 the data obtained from the #43 truck indicated unfavorable transmission and engine temperatures. Travis said "the transmission was 426degrees and the engine was 258, this we will have to address" The team worked to fix overheating issues, flushing the plugged coolers from all the dirt that got thrown at the truck, ducting some more air in and making minor set-up adjustments.
When the green flag dropped on Sunday, Travis and the #43 Ford were not intimidated by the legendary land-rush start that Crandon International Raceway is known for. Dinsmore hit the first corner of Round 6 in the lead position and continued to lead a flawless race. At the mandatory caution Travis had achieved just over a 5 second lead. The restart came and Travis got the jump rocketing the truck towards the finish. Travis commanded the race and at the checked flag the #43 was in first by just over 7 seconds.
"Not sure how we got that hole shot but did those Atturo Tires dig and the Pro Power engine was flawless" commented Travis.
The team is excited to leave Crandon and head to Minnesota. After their great weekend with a win and a 2nd place finish, Travis now sits in second place in the points