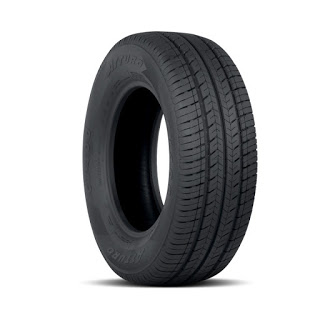 From the online article:
"Built for commercial vans such as the Ford Transit and Ram Pro Master, Atturo has introduced its new CV400 tire.
The CV400 covers popular sizes for the global fleet of commercial vans. The full range carries the 'C' designation for higher load rated commercial vehicle use.
The Atturo CV400 tread pattern is designed specifically for the commercial van application. The tread has broad shoulder blocks with deep sipes to provide stable handling for high center of gravity vehicles and interlocking chevron center blocks maintain directional tracking. Three center channels in the tire improve water dispersion for improved traction and braking. "
The CV400 size range is certified for international markets:
195/70R15C 104/102R
205/65R16C 107/105R
205/70R15C 106/104Q
205/75R16C 110/108R
215/65R16C 109/107R
215/75R16C 113/111R
215/70R15C 109/107R
225/70R15C 112/110R
225/75R16C 121/120R
235/65R6C 121/119R