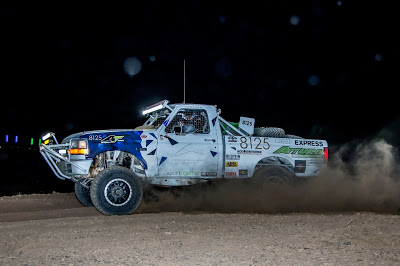 Working as a luxury furniture maker in Los Angeles, Cooper Reynolds Gross has built high-end pieces for the crème de la crème of Hollywood. And through his profession, he's experienced more than his share of memorable moments. But it's his hobby as an off-road racer that's produced the biggest of them all. "There are moments people talk about in life," says Cooper. "The birth of a first child. College graduation. Marriage. This is mine: April 8, 2018, 1 a.m. I won the San Felipe 250."
And he did it while rolling on Atturo Trail Blade M/T tires.
While Atturo has enjoyed tremendous success in short-course off-road racing, we've now set our sights on open-desert racing – and our tires are winning there too. We began the 2018 SCORE World Desert Championship in the best way possible, with Gross and his veteran co-driver Marc Stein scoring a victory using Atturo tires in the San Felipe 250, the grueling off-road race held annually across the sun-scorched sands near San Felipe on Mexico's Baja California Peninsula.
Gross and Stein piloted their 1992 Ford F-150 Bronco to the San Felipe win in the Stock Full class, with a time of 13:07:46.718.Stein said after the victory, "We ran the old truck against a much newer truck and won – by over 60 miles. It was an incredible and humbling experience. Three hundred and nineteen of the most bone-crushing miles Baja could throw at us, and the old girl fought through."
That was thanks in no small part to the team's Trail Blade M/T tires – the exact same type that you can buy off the shelf at your local dealer. "It's a great tire," Cooper says of the Trail Blade M/T, built for the dirt with its extra-deep tread, staggered shoulder blocks for lateral grip, and aggressive sidewall tread blocks for deep gouging. "They just dig like crazy and really do handle so well."
So well that you'll never forget it.
To prove the mettle of our lineup of off-road performance tires, Atturo will continue to partner with teams in the SCORE series. To find a store near you selling Trail Blade M/T tires, use our handy dealer locator tool: http://www.atturo.com/dealer-locator/