New Atturo Tires with Ultra Wheels Continues the Winning Streak for #613 at Bark River
Posted on July 29, 2015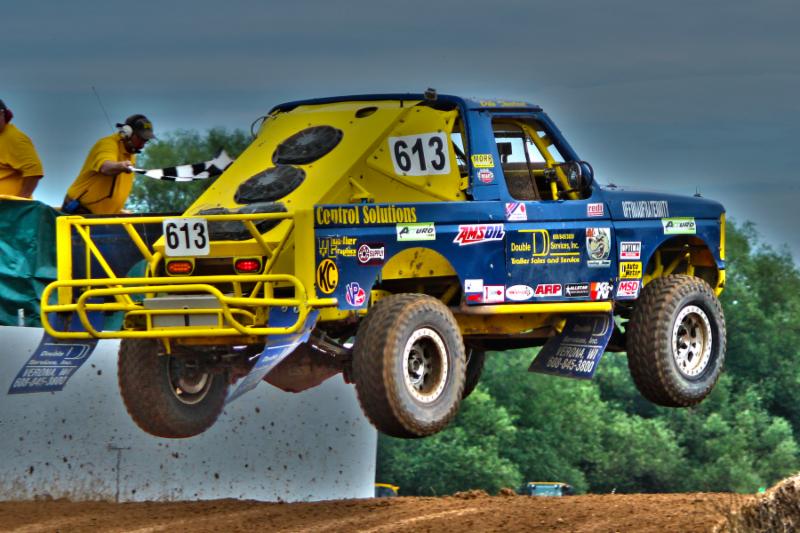 The first question everyone had when the #613 Double D Trailer Sales & Services/Off-Road Fraternity/Control Solutions/Mueller Graphics/Atturo Tire Classix racer was unloaded at Bark River was "Where's Dale?"The driver and owner of the familiar blue Bronco was on an Alaskan vacation. Even without Dale driving, the team never missed a beat as the truck finished both days on the top of the podium.So the next question was, "So who's driving?" Earlier in the year Dale convinced Super Stock Truck racer Nick Byng to be his back-up driver knowing there would be a conflict with the planned vacation. Friday afternoon in Bark River, Byng took the time to get familiar with truck as the next morning; he ran the three-lap practice session. The brief time in the truck saw Byng turn some very competitive laps. There was another change to the familiar race truck. The team switched to Atturo Tires and Ultra Wheels, as Bark River would be the first test of the new combination.

Then a couple of hours later, Nick Byng suited up to take on the rest of the Classix racers. The race saw the blue Bronco start from the back of the field and at first glance many wondered if Byng could keep the team's win streak alive. It took the back-up driver three laps to get to the front and when the field went back to racing after the lap four mandatory caution, Byng built up a comfortable lead to take the win. The next day was literally a carbon copy of Saturday's race. The new tire and wheel combination worked flawlessly as Byng brought the truck home without any damage and on top of the podium for the second time during the weekend.
"First off I have to thank Dale and Rob for this great opportunity," noted Nick Byng. "The Bronco has a shorter wheelbase, but it has more horsepower, more suspension and made it is sure fun to drive. The guys on the radio definitely helped me a ton. The truck was so much fun to drive, they had to remind me to take it easy more than a few times during the weekend. Hopefully I gave enough feedback on the new Atturo Tire - Ultra Wheel combo. The truck really seemed to be hooked up."