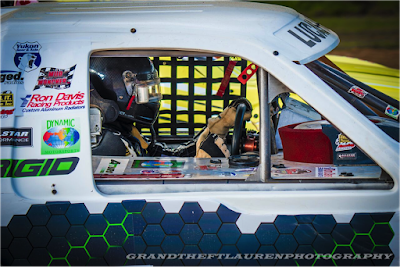 Our first race of the year, and we headed to the Bighouse — CRANDON, WI. We felt good and when practice came the truck handled great, but our new carb was not set up the way Travis would have liked. So it was back to the pits, some adjustments were made, and the crew got the carb close enough that Travis shook the rust off and qualified 2nd in the Atturo Tires #43.
When the green flag dropped on Saturday he came around Corner One in the 4th spot. Some smooth driving soon moved his hotrod into the #3 slot. However, as the race progressed Travis was making time on the #2 truck when a rock got stuck in the throttle linkage hanging the throttle open and ending his run.The crew went to work on the truck Saturday night and prepped it for Sunday. A different carb was mounted on top of the Pro Power engine and they were ready for the race.
Sunday's start resulted in 2 trucks getting together in Turn One. Travis narrowly missed the wreck and ended up at the tail end of the field. Through the first half of the race Travis tried to get around the 5th place truck several times and was forced to check up to avoid damage. When the restart flag came at half-way point, the Atturo #43 was pointed hard into the barn turn taking the inside line again. But the door was slammed closed.Travis jumped hard on the brakes to avoid heavy contact and drove around the outside of the spinning truck. Through the next several laps his Pro Light Truck was tearing up the track making its way into the second position before the checkered flag flew. "I just needed a couple more laps and I would have had him too" exclaimed Travis, "this truck was set perfect, I could put it anywhere"
We have to thank Ryan and Jessica Mottinger for their support and help, Dale Chestnut and his crew, Roger and City Homes for this great truck.
Remember that Travis races on the Atturo Trail Blade MT, the same tire available at your local independent Atturo Tire Dealer.