Come out to the Chicagoland Slam and See Atturo Tires!
Posted on June 19, 2015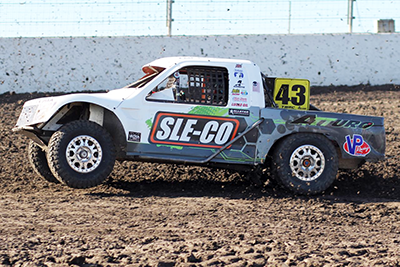 We're having a great time at the Chicagoland Slam, watching Atturo Drivers Travis Dinsmore and Andrew Carlson tearing up the track. Here are some of the highlights from last night's Round 5 of races: Travis Dinsmore-43
Qualified 5th -qualifying was a bit rough with track conditions and a lot of blue groove going into the corners.
Truck was fast and placed 4th
Travis said "track condition didn't develop to how we predicted and we just Andrew Carlson-151
Rookie Andrew Carlson gaining speed and experience each time he's on the track
Finished 7th — Less than half a second off from podium finish
Experienced mechanical issue with plug wire half way through the race, battled to maintain position (relegated him to 7 cylinders)Looking forward to round 6 tonight and expecting big things from 43 and 151! In addition to our drivers for this leg of the TORC Series, one of our local dealers is at the event with our brand new Atturo Truck wrap:
RTS WHEELS
1506 NORTH MANNHEIM ROAD
STONE PARK, ILLINOIS 60165
Phone: 708-338-3884They're there to let you know about all of the fantastic qualities of Atturo Tires. If you can't make it out to the Chicagoland Slam this weekend, check out our website and find an Atturo dealer near you.