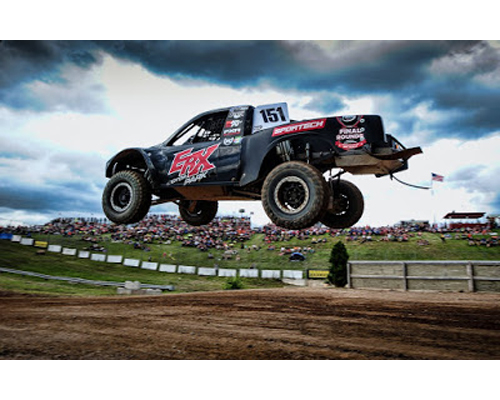 Elk River, MN-based driver Andrew Carlson made his PRO 2 debut in Round 7, starting on the pole in Keegan Kincaid's former truck. Carlson jumped out to an early lead as Eric Ruppel held off class favorites Brad Lovell and Luke Johnson for several laps. Lovell's mistake on lap two allowed Johnson to speed by, and the top qualifier soon got around Ruppel as well. But by that point, Carlson had gapped out to a huge lead. Lovell, who had been plagued by overheating issues through practice and qualifying, dropped out and attempted to salvage some championship points.
The halfway mandatory caution brought Johnson right up to Carlson's bumper, and most race fans expected the more experienced racer to pass the rookie quickly. But, lap after lap passed by, and Carlson held on to the lead, turning the Michigan fans and online viewers around the world into believers in the process. Johnson had a couple of chances at the lead, but Carlson kept his composure and held the hard charger off to win his first PRO 2 race in storybook fashion."I didn't know what to expect coming into the class. To get out and get the green flag all the way to checkered is awesome for me, because I could just run," an emotional Carlson explained. "I've never run this truck behind anyone, ever, so I didn't know what the PRO 2 roost was like. I was having a blast. This thing is so fun to drive."
Carlson was also named the "Bad MoFo" of the day for his courageous debut performance. Luke Johnson, though disappointed with his second-place finish, came out of Saturday a big winner in the championship points race, jumping from third place to first due to mechanical struggles by the previous leaders.
Andrew Carlson is now doing double duty. The driver of the #151 PRO Light and PRO 2 by the same number further cements his team's commitment to TORC Series competition – Andrew is the son of Chris Carlson, co-founder of ERX Motorpark, the site of TORC's championship rounds.
Carlson Motorsports purchased the truck from Keegan Kincaid. It's safe to say the truck is fast – Kincaid piloted it to multiple wins in 2016, including two Crandon Cup Race victories. Carlson is hoping to pick up right where Keegan left off, and he's off to a good start. He posted the second fastest lap time in Friday's practice, despite having no previous practice in the new truck."It feels awesome," Carlson said after his second practice session. "It was more similar to the PRO Light than I thought it was going to be. The driving style is pretty much the same with the rear-wheel-drive. The biggest [difference] is probably the suspension. It feels a little more floaty, like riding around on a cloud. It hooks up a lot better. I definitely felt like the PRO Light was slow after I got out."
Carlson races on the Atturo Trail Blade M/T tire – 265/75/16, the same tire you can find at your local Atturo Dealer.