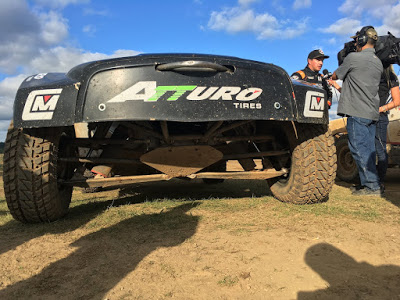 The day's most thrilling race came down to some corner contact between Andrew Carlson and TORC PRO 2 series point leader Luke Johnson. Carlson got the better of the situation as Johnson spun and Carlson went on to take the win. This was Carlson's second PRO 2 win of the three PRO 2 races he has run this season.
"Truck's [sic] got a bit of a bang on the side," said Carlson, looking down at the area of his truck following the race where he got tangled with Johnson.
Johnson also remarked on the get-together that, "We were in tight, I was trying to fight back and did everything we could. I am happy to keep the points lead going."
After successfully pulling the holeshot from the pole position and leading Johnson and Mitch Dorr up Horsepower Hill and out of the first turn, Carlson put his PRO 2 truck on a rail and held the lead through the competition yellow, and eventually the checkers.Andrew Carlson had the prime starting position in PRO Light, which he parlayed into a holeshot and subsequent green-to-checkers first place finish in TORC's PRO Light race on Saturday at RedBud, completing the PRO 2/PRO Light sweep.
"I knew the holeshot would be a huge part of this race," said Carlson. "I knew if I could get out front and run clean, I could do it. This was the best track for PRO Lights all year."
Carlson's masterful performance was just waiting to be upset by top-qualifier Cam Reimers, who shadowed Carlson for the entire race but was unable to make a pass for the lead. "We were fast this morning, so was Andrew. And, we were able to reel him in, but it ended up being really tough to get around him," said Reimers.