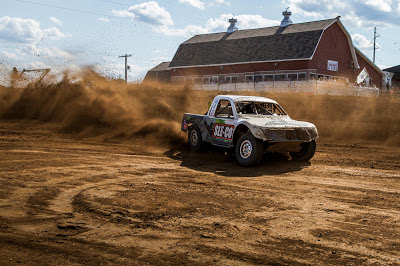 The weather at Bark River could not have been better for the 41st running of the Bark River race. The track was great and Travis and the Atturo Tires / SleCo #43 were excited to challenge this technical layout
The truck showed speed during Friday`s practice, running fastest lap in one practice session with Travis being able to position the truck where ever he wanted on the track "I like the set up" Travis said " lets prep it and leave it"
Qualifying came Saturday morning and the team was ready, during qualifying the electronic transmitter that times the laps failed and was sending no lap times to USAC control, during this time USAC manually timed the #43 and Travis laid down the fastest lap. During meetings it was decided that manual timing could not be used for qualifying and the #43 would have to start at the rear.In the start of the race Travis advanced forward quickly getting to 5th place in 3 laps when another truck forced him off the track, When Travis entered back onto the circuit he was now in 8th. The #43 ran flawless to the mandatory caution working its way back up to 6th. As the green flag flew again Travis and the #43 moved into 5th but luck would elude the team on the next lap, a power steering hose failure would erupt the truck into flames ending the day. Quick response by the Track Safety Crew would extinguish the flames to cause minimal harm. The Cool It Thermo Tec heat barriers saved the valuable parts of the engine compartment and the team worked into the night to resolve the minor fire damage.
Sunday Travis started in the 3rd row and by corner 1 would have the #43 in the 3rd spot, as the next couple laps unfolded Travis was in second closing on 1st place when the mandatory caution came out. The second half of the race would prove to be one of the best fought battles in Pro Light in a long time. Kyle Hart, the points leader, jumped into second place on the restart.
Travis, reluctant to give up this position and valuable points, raced Kyle clean and hard, passing him on lap 7 for the second spot. The following 3 laps had the stands on their feet as Kyle would get inside and outside of Travis but the #43 hotrod was driven with perfection to stay ahead of Kyle and race clean to a second place finish.Hats off to these 2 drivers for racing so well and giving the fans a great race to watch!
Travis races on Atturo Trail Blade M/T tires. Visit www.atturo.com for more information on this and our other great tires.