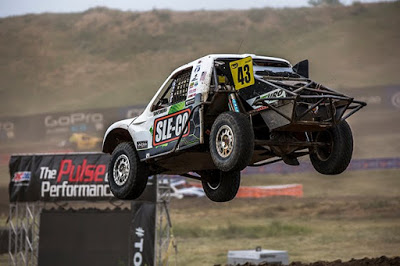 Chicago-based Tire Maker Renews Sponsorship with National Truck Racing Series
Atturo Tires is proud to announce its return to TORC: The Off-Road Championship this season with a renewed commitment to PRO Light racing. Under the extended sponsorship, the popular class of truck racing will be known as Atturo Tires PRO Light in 2016.
In the Atturo Tire PRO Light class, race champions mix it up with rising stars for action-packed competition between 500 horsepower trucks on DOT street-legal tires. The Atturo Tires Trail Blade M/T, which features a karambit knife blade – inspired tread design to maximize both style and performance, is the Atturo tire of choice for the class.
"Trucks in the Atturo Tires PRO Light class run the same street legal tires customers can buy at their local dealer," said Michael Mathis, President of Atturo Tires. "Short-course off-road racing in the TORC Series is a fantastic proving ground for our products and demonstrates first-hand the quality, durability and performance our Trail Blade M/T tires offer consumers. Atturo Tires are designed especially to meet the needs of the light truck, crossover and SUV market both on the street and the trail, and are constructed to world-class standards.Under the sponsorship agreement, Atturo will also join TORC's live digital broadcasts and become an active partner on series social media channels. In addition, the company will join the TORC Series at each stop, offering fans the opportunity to learn more about Atturo Tires, and interact in the TORC Fan Expo. Atturo sponsorship for the series as well as TORC series drivers Travis Dinsmore #43, and Andrew Carlson #151, raised the profile of the brand in 2015, demonstrating the superior traction and durability built into the Trail Blade M/T by bringing home six podium finishes, and two outright wins including the season-ending Crandon World Championships. For 2016, both drivers return looking to increase their multiple victories and podiums earned last Season. "Short-course off-road racing is tough on tires and it's great to partner with a company like Atturo Tires that offers its customers race-proven performance," TORC Partnership Marketing Director Lars Sequist. "We look forward to another strong season together with Atturo Tires, both on and off track." Atturo Tires
www.facebook.com/atturotires
www.twitter.com/atturotire
www.instagram.com/atturotires
Travis Dinsmore #43
www.facebook.com/racing.dinsmore
www.twitter.com/Travisdinsmore
www.instagram.com/travis_dinsmore
Andrew Carlson #151
www.facebook.com/carlsonmoto
www.twitter.com/151Carlson
www.instagram.com/andrewcarlson151