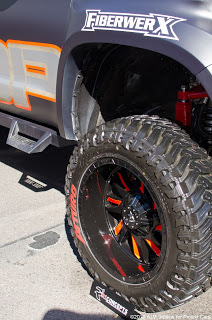 Here's a peek at some of the vehicles and tires at SEMA 2016 that featured Atturo Tires.This 2016 Toyota Tundra features our 37×13.5 R22 Trail Blade M/T tires. The truck was built by PROJEKT-CARS who really went all out to make this Tundra a monster. Here's an ATV also outfitted with Trail Blade M/T's.
A closeup of the Atturo Trail Blade BOSS tire…
And an extreme closeup of the BOSS tread pattern. Designed after the Quartermaster Knives' BOSS HOG knife, the BOSS is designed for the hardcore offroad.
Here's the Humvee the BOSS tires are on, from the MilSysGroup.com
Here's our SUV outfitted with the Trail Blade X/T – our Urban All Terrain tire. Made for the offroad, but mannered for today's streets.
Atturo's TORC trophy for our 13 placements across the series by Pro Light drivers Travis Dinsmore and Andrew Carlson. Both vehicles are outfitted with our Trail Blade M/T tires to handle all of the hazards that short course offroad racing can throw at them.
Here's our showcase booth designed to give visitors an opportunity to familiarize themselves with our tires.
We'll be posting more pictures and information about SEMA2016 – so check back in….