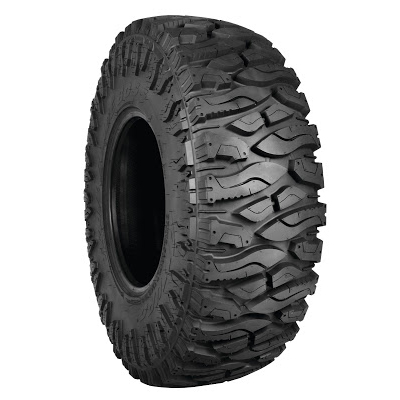 FOR IMMEDIATE RELEASE
November 3, 2015
Las Vegas, NV USA
Atturo Tire releases the fourth addition to the Trail Blade series with the most intimidating design to date – the Trail Blade BOSS. Conceived from the start for XL dimensional sizes. This is not a tire for the timid vehicle. The tread design is elementally from the Quartermaster QSA-1 BOSS HOG knife. The tire will handle the same hard core applications as the oversized blade. Quartermaster describes the QSA-1 as a knife made for heavy duty chopping with rigidity and confidence in hard core use. The Trail Blade BOSS is made for the same hard applications off road. Mud bogs. Rock climbing. Overland. The BOSS will command them all. The center tread incorporates the 'kurki' style knife blade as the oversized tread lug. It extends from the shoulder across the center line. The deep channel in this massive tread block serves to pull through deep slop and force debris from the center of the tread. Alternating shoulder blocks follow the outline of the knife handle. The high void ratio of the tread provides superior grip across the varied terrain the tire is intended for. The relatively smaller center tread blocks are linked for stability from the high abrasion abuse of rocks.
The sidewalls of the BOSS feature the same blade and handle shapes as the tread. These are no ordinary sidewall lugs. They are molded to intimidating dimensions. Along with the visual appearance, these large lugs provide traction in deep mud, grab loose rocks and protect the sidewall from protrusions on the trail. Beneath the tread, lies a 3 ply sidewall for load capacity and protection. The overall look is an appealing combination of form and function unrivaled on the market.
The BOSS will only be produced in large sizes to properly utilize the design features. The initial sizes will be from 37" diameter up to 40", with rim sizes of 17" up to 24". The Trail Blade BOSS is on display at the SEMA Show New Product Showcase and the Atturo Tire booth 43301. Naturally, there is an Atturo version of the QSA-1 featuring an innovative rubberized handle. The knife will also be on display at the Atturo booth during SEMA.
Quartermaster Knives designs and produces some of the most sought after tools in the knife industry. The BOSS is the third collaboration between Atturo and QTRMSTR founder Jared West. Starting with the original Trail Blade M/T, and last year's SEMA International Media award winning Trail Blade X/T, the performance benefits of utilizing a knife blade in tire tread patterns has been validated. The market appeal of these unique designs has brought performance within reach to the off road enthusiast.
For more information:
Atturo Tires – www.Atturo.com
Facebook.com/atturotires
Twitter – @atturotire
Instagram – atturotires