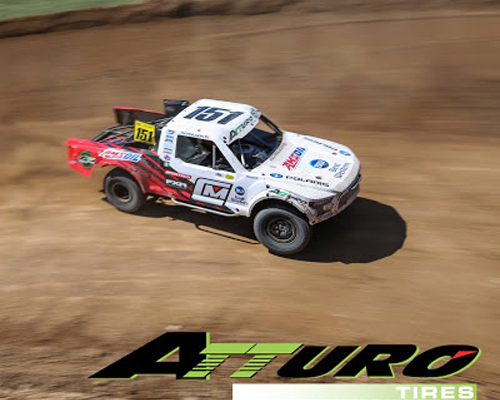 New Rules Allow for Both Trail Blade M/T® and Trail Blade X/T® to Race
Atturo Tire, Chicago's own tire company, announced their lineup for 2017's The Off Road Championship (TORC) series. Kicking off this May 13th in Joliet, IL, with the Chicagoland Slam, this TORC series will feature Atturo tires racing in two classes of off road competition – the Pro Lite and Pro 2. This is an expansion of the Atturo brand into the Pro 2 class pitting the Trail Blade M/T® and the Trail Blade X/T® tires against the harsh driving conditions that make up the TORC race experience.

Atturo has been a major player in the Pro Lite class of the TORC series, having sponsored 2016's series and nabbing 11 podium finishes with veteran drivers Andrew Carlson #151 and Travis Dinsmore #43. Both drivers race on the Atturo Trail Blade M/T. The unique design of the Trail Blade M/T is based on the cutting edge blades of designer Jared West, of Quartermaster Knives, creating something fresh in the LT tire segment. Atturo selected knife blades to incorporate into the tire design based on their intended use as a gouging or clawing type tool. The shoulder and corresponding sidewall tread blocks are based on a pusher style double tipped blade, even including the contoured edges. The alternate sidewall lugs are from the Karambit type blades. All of these elements have combined to create a winner on and off the track, and while 2017's competition is fierce, Atturo is poised to build on their earlier successes in the series.
"Consumers know that when they go to their local independent Atturo tire dealer to get a Trail Blade M/T, they are going to get an aggressive tire that is not only designed well, but it's race-proven," says Atturo president, Michael Mathis. "We are eager to expand into the Pro 2 class and show our SUV, Crossover, and Light Truck consumers exactly what our Urban All-Terrain Trail Blade X/T can do." The Trail Blade X/T debuts in 2017's TORC Pro2 class racing alongside the M/T thanks to a rule change allowing for a DOT rated street tire. The Trail Blade X/T, a new type of multi-terrain tire, is another collaboration with Quartermaster Knives, and cuts into the segment between traditional M/T and A/T tires. The Trail Blade X/T offers the open shoulder and sidewall tread lugs of a mud terrain, combined with the off road ability of an all-terrain and the road feel of a highway tire. The design and variety of sizes brings a whole new look to SUV, Crossovers, and Pickups.
Atturo's expansion into the Pro 2 class not only gives race fans opportunities to see the TrailBlade X/T and M/T in action, but also introduces the Atturo audience to its newest drivers, Scott Mueller and Matt Solka. Mueller brings two Crandon Classix World Champion wins to the team while Solka brings a diverse background with multiple Holeshot awards, multiple podium finishes, and a 4th overall in race points.
Both are eager to show what they can do on May 13th at the upcoming 2017 TORC series kickoff, the Chicagoland Slam.
Pro-Lite * Running the LT265/75R16 Trail Blade M/T
#151 Andrew Carlson – hometown ERX (Elk River, MN)
#43 Travis Dinsmore – hometown Paris, ON Canada
Pro-2 * Running the 35×12.5R17LT Trail Blade M/T & Trail Blade X/T
#31 Scott Mueller – hometown Owen, WI
#28 Matt Solka – hometown Houghton, MI