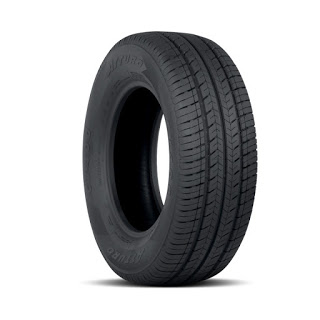 This hard working tire is designed for the commercial van segment such as the Ford Transit and Ram Pro Master. These vehicles have become increasingly popular for all types of urban service and delivery fleets. The segment opportunities have expanded into consumer markets as the modern full size van for camping, luxury conversions and group transportation. The extension of the Atturo range for this category is a natural complement to the brand's dedication to the Light Truck market segment.
The
CV400
covers popular sizes for the global fleet of commercial vans. The full range carries the 'C' designation for higher load rated commercial vehicle use. While these types of vans have been prevalent for years in many countries, their growth in the US is just starting. Recent industry statistics show that the original equipment size for Ford Transit and Ram Pro Master, 235/65R16, has jumped to the number three OE light truck tire size in the United States. These vehicles use their tires and demand frequent replacement.The Atturo CV400 tread pattern is designed just for the commercial van application. The broad shoulder blocks with deep sipes provide stable handling for high center of gravity vehicles. The interlocking chevron center blocks maintain directional tracking. The three center channels improve water dispersion for improved traction and braking. A highly durable tread compound supports the 40,000 mile tread wear warranty.
The CV400 size range is certified for international markets.
| | |
| --- | --- |
| 195/70R15C | 104/102R |
| 205/65R16C | 107/105R |
| 205/70R15C | 106/104Q |
| 205/75R16C | 110/108R |
| 215/65R16C | 109/107R |
| 215/75R16C | 113/111R |
| 215/70R15C | 109/107R |
| 225/70R15C | 112/110R |
| 225/75R16C | 121/120R |
| 235/65R6C | 121/119R |